Vehicle Digital Video Recorder, or as some call it just DVR, is one of the most versatile tools in any vehicle. The features provided by these DVR's are not just limited to high resolution video quality and ease of use, but also extend to HD shooting, huge built-in storage space, extra supported SD card, and not mentioning, night vision as well. These features not only increase pleasure while driving, but also beef up your vehicle's security.
Just like thousands of worried car owners, we too are concerned about unprecedented vehicle damages such as car accident liabilities, scratching by pedestrians, and collision at the car end. Probability of car accidents increases day by day, thanks to the ever increasing congested roads, disordered traffic and even negligence on other's end. But, it happens often that you aren't able to prove your innocence after any accident due to lack of evidence. This not only deprives you of the rights, but put an extra burden of liabilities. If you have experienced similar troubles in the past, then no more to be concerned, because all you require is a Full HD 1080p Car Video Recorder. This excellent tool will help you get out of such troubles easily with its accident playback recording feature.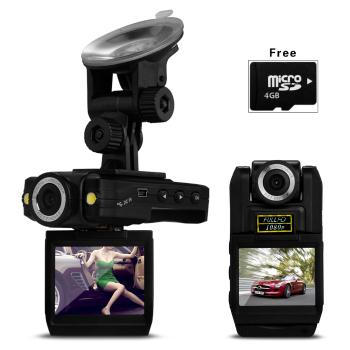 Apart from the accident, you sometimes find scratches on your car after you park it somewhere and return to it. Even though you may get tempted to believe in first guess, that someone did it knowingly, but you have no evidence to prove your claim. To resolve such issue, you just have to install a DVR in your vehicle. It will even record what happened to your car even if you were not there. This video may help you secure your civil rights later by the videos produced by DVR as evidence to support your claim.
Most memorable moments in your life are usually the time you spend with your friends or family on a trip. No wonder, people love to snap each and every moment with their cameras or camcorders to store in their computers for later viewing to remember the good times you had. HD Car DVR Camcorder in your vehicle can make extra camcorders with you completely useless on such occasions. Because, vehicle's DVR act not only as the camera, but also camcorder, by recording all your driving trip. Travel process is recorded by many travelers using a DV. But the truth is that car DVR is much more effective than a DV, since DVR can record even at night using its night vision feature. This feature allows you to get a clear picture even at night. For capturing any magnificent scenery, DVR is all you need to capture photos, regardless of where you go for a trip.
To make it act like a webcam for video calling on your PC, you just need to hook it up to your computer via USB cable in PS mode. Not just that, sharpness and contrast too of DVR are unbeatable by ordinary webcam. High built-in storage capacity of car DVR is also enough to record so much data. Car DVR can be used as a SD card reader too.
In a nutshell, car DVR is so versatile and a must havetool for your car. You must have got tempted to buy one by now, so just check out Eachbuyer. They have a wide array of DVRs available, find the one which is tailored according to your needs and requirements.