Going to work to an office on a daily basis is not considered a business success anymore. Thanks to the rise of the alternative labor market online, today more and more workers can work from the comfort of their homes. Of course, there has to be a catch in every almost-perfect story. When it comes to in-house freelancing, it demands a high level of space and work organization.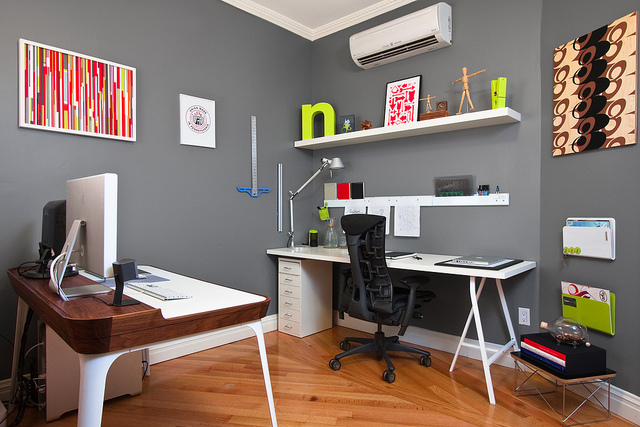 Isolate yourself
The most important precondition for a well-organized home office is being able to isolate yourself from all the other family members or external influences. If you live on your own, it does not mean that you should use the same space for work and leisure. On the contrary, always separate the space made for work from the space for fun. Our mind is easily amused and carried away if it is not taught to function differently when it is working and when it is taking a rest.
Mind your body
The key disadvantage of working from home is not reduced socialization, but health-related issues. When you have to move to get to work, you have a chance to walk, stand, ride a bike, or make any other kind of motion. However, working from home might leave you move-less for days. Such a lifestyle could seriously affect your heart and your weight, but most of all your back. So, every home worker needs to learn how to save their backs, to avoid back pain and reduced work productivity.
Share space with colleague(s)
Living and working on your own can be a tricky thing, unless you have perfect work discipline. Also, when you think about all the expenses you could have when working from home, it turns out that sharing your space and the bills with a colleague is a handy option. You could work at your or their place and that way make a significant saving. Of course, this option is available only to individuals.
Earth-friendly and thrifty furniture
When getting the furniture for your home office, do not go for expensive items. After all, it is your office and it should only be functional and cozy; nothing more, nothing less. Again, the Internet comes as a savior when it comes to furniture. You can check thousands of ads with used furniture, as well as visit websites that sell only second-hand items. That way you might find quality pieces at affordable prices. In case of a serious lack of space, you should consider getting multi-purpose furniture to avoid cluttering of your work space.
Minimize storage devices
Cluttering your home office with DVDs, CDs, flash memories and external hard disks will not contribute to your work efficiency. In order to organize your home work space in a better way, you should start using cloud storage services. Freelancers can choose from a huge variety of packages and options, in accordance with their business preferences. That way you can pay for the storage space as you go, on the basis of your current work demand. Also, cloud can be used for additional software and time management services. You can read more about it here.
Ready-to-use work equipment
Being your own boss means that you can enjoy a high degree of freedom, but you are also the only person responsible for the nuts and bolts of your work. It means that you have to take care of some office basics, like spare power strips and a few screwdrivers, to be able to open your computer in case it stops working. Also, imagine that you need to have to print something in the middle of the night and you have no ink. To avoid such an outcome, always store enough replacement ink cartridges in your office cabinet.
If you manage your time and space successfully, working from home can be the best work experience you have ever had. Our tips should help you get there.