If you want to implement any particular style or décor ideas into your home, the living room is the best place to start off. It's the most cherished and often off-limits space that mood and tone for the entire home's decorating approach. Let's check out some décor ideas for a stylish living room.
The integral part of designing any urban space is to free it up as much as possible and then make the perfect use of every available inch. So, the first step to styling up your living room is to get rid of the casual furnishings and accessories. Smart management of space is the ultimate goal so you can keep a sofa set combined with a coffee table and accessories or just a chaise and one or two pieces of decorative accessory pieces – whichever matches your personal choice and the décor setting of the rest of the house.
You can opt for wainscoting panels design, wooden flooring, or a piece of wooden furniture. It will bring warmth and a traditional flair into a contemporary living room. Wooden fixtures and furniture are part of a classic design trend that never goes out of style. Whether you want to give the place a warm rustic appeal or a chic modern vibe, the wooden décor appears to be at home with almost every genre.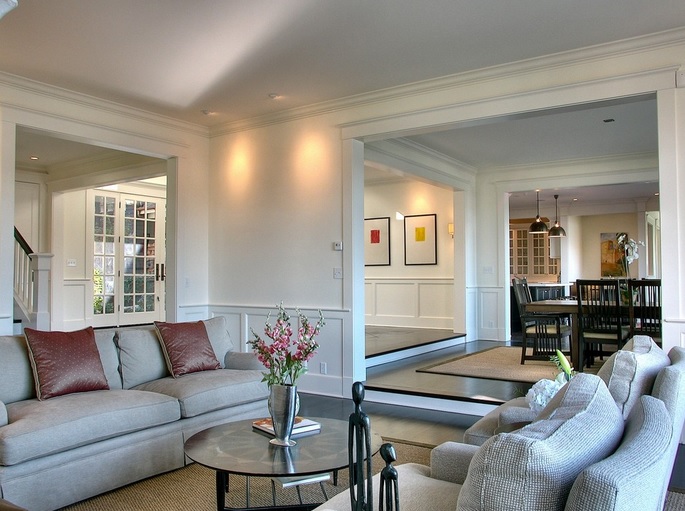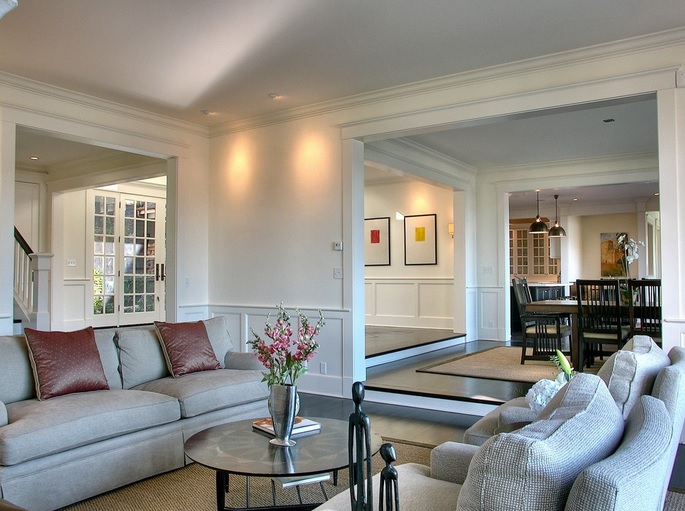 Photo Credit: Supple Homes Inc
Freeing up the square footage and using the vertical space is another effective way to create a breezy, cheerful ambiance in a room. Storage options like floating shelves, wall cabinets, and modular units cut back on visual clutter and give you the freedom of harnessing all the available wall space. However, if space is at a premium, think of open shelves rather than modular storage units because the latter can easily seem overwhelming if done wrong.
You can use these storage units to keep paintings, sculptural figures, collectibles, and other things to add textures and patterns to the room.
Raised ceiling is not modern, but it creates a sense of height, which is essential to bring a modern vibe in a place. The living room should appear open and feel roomy so that you don't feel suffocated while passing friends or family time there. The ceiling fixture is likely to make the place look bigger by drawing the eye upwards. Painting the roof in a light color will also help your mission of opening up the room. After that, complement the look with dark ceiling beams and a gorgeous light fixture.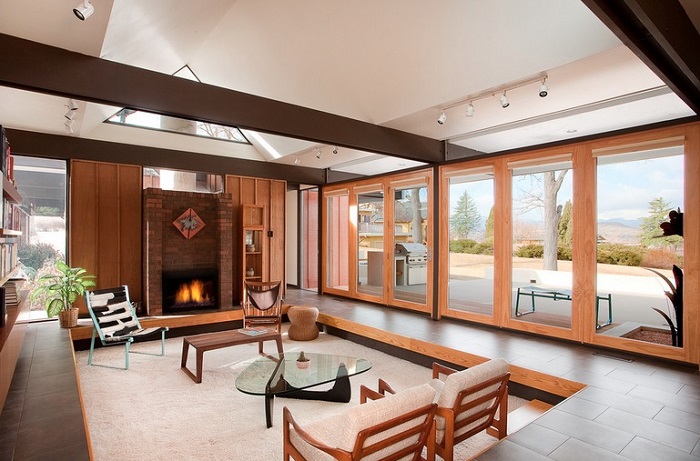 Photo Credit: Visbeen Architects
A modern living room looks incomplete without a fireplace, and you can easily add some design features to the mantel to make it the star of the place. Install show stopping tiles like the Mosaic House Moroccan, bricks, or natural stones around the fireplace. The beauty of exposed stones or bricks will instantly make it the focal point of the room.
The urban life revolves around scores of artificial materials. From our getting up in the morning to going outside for work and going to bed at night, we see and use lots of high-tech metals and plastics. So, including natural textures and materials into the living room will help you feel alive when you're back home. Buy items made with rattan, caning, and reed; sisal or cotton rugs; polished wooden table; green plants or flower vases; and more to create a relaxed ambiance.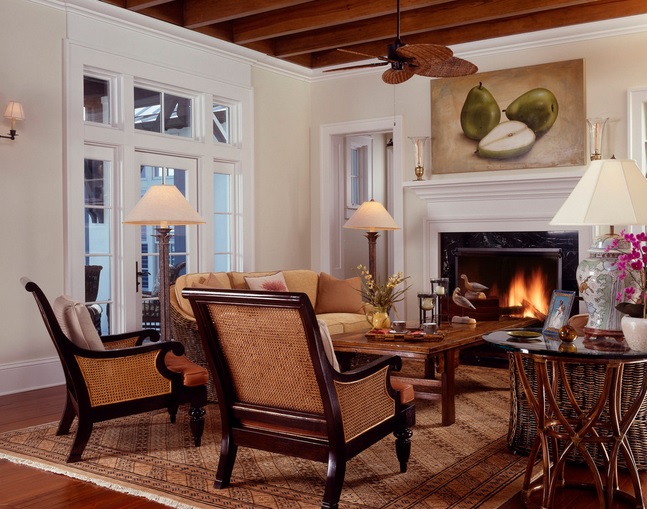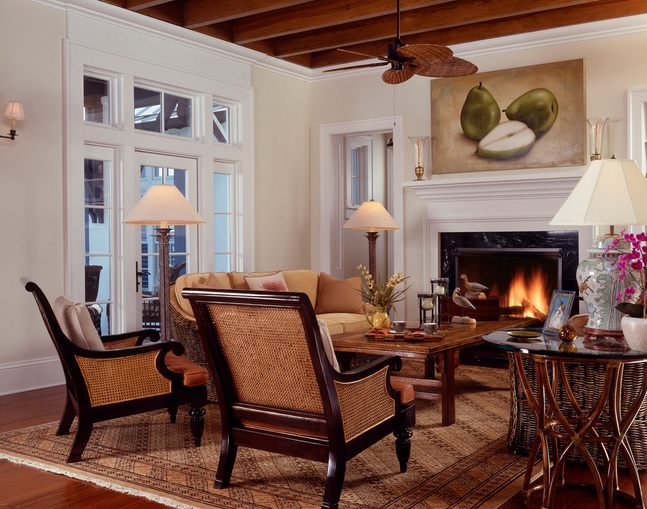 Photo Credit: Johnson Smith Architects
Printed fabric has a casual aesthetic that increases the charm of a place without making it look overbearing or suffocating. Inject playfulness into the living room by using colorful and patterned fabrics as drapery, curtains, pillow covers, and furniture covers. The prints don't need to stop at floral and geometric designs. Bring them in various shades, patterns, and textures. As long as they are bold and beautiful, they will make the cut.
A living room is a place that sets the décor trend of the rest of the home. So, if you can decorate it the right way, you'll have no problem setting a style for other rooms. The ideas mentioned above will give you the inspiration to get started.