If you are a Barcelona lover, then your match would be incomplete if you are not wearing an FCB shirt. And if it is El Clàssico, then how can you miss to cheer Messi, Xavi, Iniesta, Villa, Puyol and others without wearing that red and blue logo shirt?
About FCB
Started in 1899 by a group of British citizens living in Barcelona, FCB soon became popular as it was a British representative game in Europe. Joan Gamper, the founder, player, president and director for around first 25 years, became the driving and inspiring force for the club. At that time, FCB was open to people from all origins, irrespective of their geographical, religious or political associations.
In 1910, the club identified its importance across the geographical boundaries of Europe and decided to attain a personal coat of arms. The first element was to select a personal uniform. Gamper decided to design FCB custom logo design on blue and scarlet uniform, as these were the colors of his ex-club before coming to Catalonia. The similar colors are still used in FCB uniform and logo.
The club was not economically stable at that time. They used to play in Bonanova cycle track grounds (today's Turo Park) from 1899 to 1900, Hotel Casanovas Grounds (today's Hospital de Saint Pau) from 1900 to 1901, Carratera de Horta grounds from 1901 to 1905 and Carrer de Muntaner grounds from 1906 to 1909. Later on, the team gradually attained national importance and was granted funds for sport growth.
FCB Logo
The first logo of Football Club Barcelona was a brown colored badge with the Spanish coat of arms. This logo was used until the launch of a new uniform in 1910.
In 1910, FCB launched a new blue and red scarlet uniform. It was the same year when the new FCB logo was launched. This logo became the foundation for FCB's present day logo. Till 1939, FCB logo underwent a few more transformations.
1939 started with a new history of FCB. These years are called the Franco Years. From 1939 to 1974, a few more transformations were made in the logo. The prominent changes include simplification and elongation.
From 1974 to 2002, minor changes were made in the logo. However; a prominent change which was consecutively found in the logo alterations was of blurring the edges and re-sharpening them.
In 2002, the color of football in the logo was changed from brown to yellow. This similar logo is used till now.
FCB Facts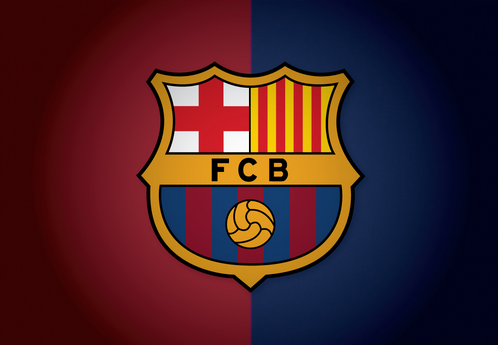 FCB won its first trophy in 1902 in the Catalan Football Championship. The trophy name was The Copa Macaya.
Messi is the only player to win World Player of the Year consecutively for 4 times.
Xavi is known as the world's best play maker.
With 86 trophies, FCB becomes the world's most trophies winning team.