Saltwater and freshwater pearls are the oldest known gems. We don't know when they were first discovered but they were probably found by early humans searching the shore for food. And pearls being pearls, they were probably just as enthralling to our ancient ancestors as they are to jewellery lovers today.
Pearls were once considered to be the most valuable of all the gems, and it's easy to see why. Due to the stunning lustre and serenity of the pearl, there are lots of mystical myths and legends about theseexquisite gems.
Legend has it that Cleopatra crushed a pearl into a wine glass to impress Marc Anthony with a lavish feast. Cleopatra, born in 69 BC andfamed for her beauty and sex appeal, is said to have owned two of the largest pearls ever seen at the time.
In some early cultures, pearls were thought to have appeared when a single drop of rain fell from the heavens and became the heart of the oyster. They were named 'teardrops of the moon'. Through the years,pearls have also been associated with mythical creatures and were believed to come from the tears of mermaids, nymphs or angels.
Whatever the truth, our love of pearls has remained as vivid as the legends that surround them. There's something about these fables that suits the effervescent quality of the natural pearl and adds to the femininity conjured up by them.
Pearls are often associated with purity and innocence, making them perfect for detailing on bridal gowns, or worn as jewellery by the blushing bride. They're also, somewhat unfairly, synonymous with old ladies and twinsets.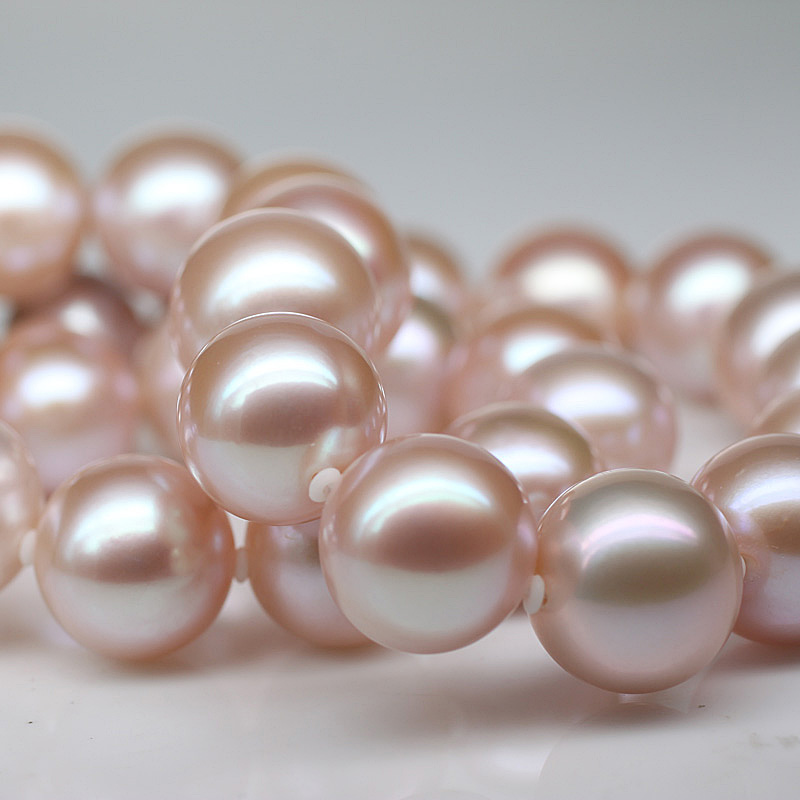 But pearls never really lost their appeal to those who love classic jewellery. Fast forward to today and pearls are as popular as ever. Pearl farms have brought these sumptuous cultured gems to the masses and allowed jewellery lovers everywhere to experience these wonderful marvels of nature.
They've even been spied adorning the neck of pop starlet Taylor Swift, in a nod to classic fashionistas of Fifties such as Jackie Kennedy. Even Katy Perry revealed a penchant for natural pearls when she was spotted on the front cover of W Magazine.
Different Types of Pearls
If you're about to treat yourself to a timeless pearl necklace, or perhaps a pearl bracelet or earrings, it pays to know a little about the different types of pearls available.
There are natural pearls, cultured pearls, saltwater pearls and freshwater pearls. Not forgetting imitation pearls, which are usually a glass coated bead.
Natural pearls are the rarest and can be more expensive. These are mostly sourced from the Persian Gulf. The bad news is that this source of natural pearls has almost dried up and most of these pearls have already been harvested.
Cultured pearls are grown in pearl farms. This is a delicate and laborious process that produces pearls of varied quality. Most pearls that you find in jewellers shops are cultured pearls.
There are three main types of saltwater pearls, Akoya pearls, Tahitian pearls and South Sea pearls. South Sea pearls come from one of the world's largest pearl oysters, producing some of the largest pearls available.
Freshwater pearls mostly come from China but also come from other parts of the world. These pearls are grown in freshwater lakes, rivers, and ponds.
Freshwater Pearl Collection
Pearls have a place in any good jewellery collection, whether they are cultured pearls, pink pearls, natural pearls or any other kind of pearl.
Mantolin specialises in capturing the elegance of pearls with a stunning selection of chic and affordable pearl jewellery created using only the very best freshwater pearls.
When it comes to pearls, this Toronto based company accepts no imitations. Mantolin offers a range of stylish pearl jewellery created from cultured, freshwater pearls.
With a vast range of pearl colours and sizes to choose from, you can enjoy unique pearl jewellery at affordable prices. View the Mantolin pearl jewellery collection.