Jacob the Jeweler's bling is the hot trend for high-end stylists and rap stars at present. But that is no reason to feel low as the business owned by his family is open to all. The signature watches of Jacob (five-time-zone watches) fill up the townhouse. The storefront on East Side is inspired by true class and style and there is a lot of gaudiness in the store. But, there are classier pieces which include simple chains, bracelets and earrings adorned with diamond. The owner of the  Jacob & Co., the best jeweler in town is Jacob Arabov.
About the Maker
Jacob, a native of Uzbekistan, had emigrated to the U.S. at the age of fourteen. He was always interested in the timepieces and jewelry pieces manufactured by his family. When he was sixteen, he left formal education to undergo a jewelry-making training. By seventeen years of age, he started to design his pieces of jewelry.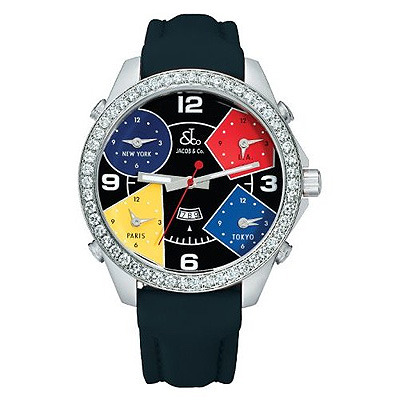 The Making of Timeless Pieces
Jacob, the jeweler selects exceptionally rare stones with extreme integrity and critique of a jeweler's eye. His inspiration and inventions along with the finest art of jewelry making, gave rise to intricate and iconic masterpieces. Apart from unusual modern designs and diamond cuts, Jacob the Jeweler also customizes pieces. The customers choose the diamonds having any shape, color, or size and the staff creates a design around it along with the input from the customer. Jacob's timepieces are inspired and imagined by all the beauty surrounding him. They are produced from a desire to challenge traditional watch-making and deliverance of creative vision. In making jewelry, their sources are exceptional and rare stones which are selected with integrity. Diamonds and gemstones are set so as to capture the maximum of reflection and highlight their colors.
Awards and Accolades
From 2002, he started designing watches which posed as a symbol of success for serious collectors as well as prominent faces. Being the creative head of the brand's avant-garde watches, Arabo was awarded quite a lot of awards. He has also been given recognition as "Master of World Time". The World is Yours a watch made by Jacob & Co. was awarded the Travel + Leisure Design Award in 2006. In spite of a number of complications, Jacob's intricately manufactured jewelry and watches which are filled with opulence, have adorned a variety of celebrities as well as have been featured in quite a few magazines.
Revolution, the internationally respected timepiece magazine, in December, features a cover story as well as an interview of Jacob Arabov, the founder of Jacob and Co. Some of their collections were also featured in the Mexico Vogue.
The products which Jacob the Jeweler specializes in are Cuff Links or Notions, Watches and Jewelry. Their price is of a very high range. As any best jeweler, Mr. Jacob also helps customers to select necklaces, wristlets, or also the once-in-a-lifetime nuptial set. If you truly want to give your personality a unique look, then grab any of these stylish and trendy timepieces.