Jugnoo is a Urdu word, meaning firefly. A firefly is a tiny insect which lights up the darkest corner of your room casually with ease. The concept of Jugnoo, an app based online auto service was a similar kind of casual approach by some bright IITians. These aspiring entrepreneurs first enlightened the city of Chandigarh by their GPS operated auto-rickshaw service and now commuting passengers even in the capital city Delhi, its neighboring city Gurgaon and in the business city Mumbai. If you want to know some more details about this amazing auto service take the effort to go through this page: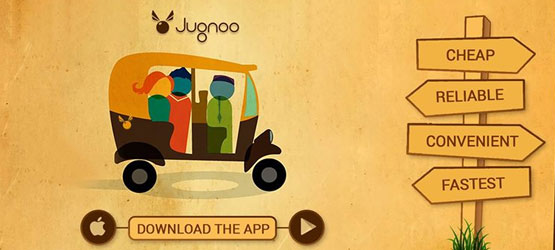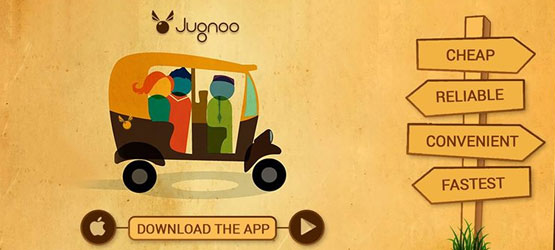 How Jugnoo flies over the cities hearts?
Jugnoo operates by linking Jugnoo commuters seeking rides with the available Jugnoo auto rickshaws in the vicinity with the help of a user-friendly app.
Once you, the registered user logs on to the app, your exact location is are broadcasted through GPS in a map format in the app.
The nearest auto in the Jugnoo clan then notes this and heads towards you for the pick up.
You can also track the approaching Jugnoo auto location long with estimated arrival time and other driver details.
You can use the Jugnoo coupons if you have one, during the payment to get some discounts over the fare on your ride.
Some exciting facts about Jugnoo and their intra-city auto service
Exact fare travel: The passengers need to pay the exact amount, on reference to exact distance travelled. No extra perks or late night charges are there.
Reasonable Tariff plans: The tariff plan of this auto service is quite reasonable. For first two initiating kilometers it is Rs. 20 and after that you need to bear Rs. 5 as each kilometer passes by.
Greeting gift: If you are new to Jugnoo, then you get a Jugnoo promo code (chalo Jugnoo se) as an introductory gift which presents you with certain percent of discount on your rides.
Cheap and Affordable: It is far more economical and wallet friendly than other app based cab ride which demands something like Rs. 80-150 per Km. As such it is just the perfect option for a daily traveler.
Instant fare notification: The amount, which you need to pay to the Jugnoo driver, will be informed to you at once via an SMS. So, there is no question of bargaining or the driver charging extra fare at the end of the ride.
Skilled and civilized drivers: The drivers plying the Jugnoo autos are rigorously trained under Jugnoo officials on a two day workshop and are also well mannered. As such a customer needn't to worry about their safety and comfort while riding.
Easy Download: This small app of 1GB can be downloaded easily over Google Play Store or iOs store for free and can be easily installed.
Economical, nimble and easy ride are the primary strengths of Jugnoo. Thus, a Jugnoo app is a worthy download for anybody who travels frequently. With all those costly cabs, cheap Jugnoo auto ride cuddles your wallet and help you commute in a Desi style.