Most people don't know that Kobe Bryant was named after a steak of Kobe Beef, which was on the menu in restaurant where his parents liked to dine. His father Joe Bryant, also known as Jellybean, who was an NBA player himself, who played for Golden State, 76ers and several teams in Italy, says that Kobe was a natural from the day one. He started playing basketball when he was only three years old. Although it is hard to imagine three year old Bryant jumping, passing and shooting, skill he was showing from 1996, when he was drafted by Charlotte Hornets until this day, requires centuries of practice.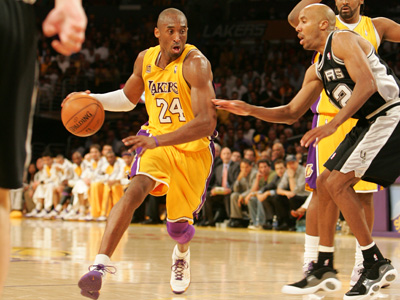 High School
Bryant's talent was easily recognized by gym teachers in Lower Merion High School, which lead to his outstanding varsity basketball career that he started as a freshman, which was highly unusual for that time. The talent he showed during high school years lead him directly to NBA Draft, although several college recruiters provided him with offers. Bryant's high school sport's career ended with first state championship for Lower Merion Aces, his 30,8 points on average (more than Wit Chamberlain and Lionel Simons) and senior prom with popular R'N'B singer Brandy.
NBA Draft
Bryant followed the example of Kevin Garnett and skipped college basketball, and was chosen as a 13th draft by Charlotte Hornets. He was a very valuable pick, since just few months later Lakers traded their starting center Vlade Divac, for 17-year old Bryant, which gave him the guard position in the team he adored since childhood years in Italy, when his uncle was sending him NBA games' videos from LA Lakers' "Showtime" years.
Rookie
During his first years in the league, Bryant was the youngest and the most promising rookie. Both minute and point figures were increasing. On 1997 All Star Weekend, he won Slam Dunk Contest, and just one year after, he received an invitation to play in All-Star team. One of the main events in the beginning of Bryant's NBA career, was in the end of the play-off game with Utah Jazz, when he shoot four three-pointers in a row and missed. Although it ended up with a failure, this gesture earn him respect from other team members, especially Shaq, who stated several years later that only Bryant had enough guts to try something like this.
Kobe and Shaq
Shaquille O'Neil and Kobe Bryant managed to won three consecutive NBA titles and become the most fearsome duo in NBA. Shaq called Kobe the best player in the league and during these three years Bryant set numerous records. Their relationship got worsened after some time, and they went from teammates to rivals. Bryant continued with his miraculous performance, all the way until the 2003 sexual assault charge that put his career and reputation in danger. Just about that time Shaq was traded to Miami Heat and Bryant became the sole leader of Lakers squad.
81 Points
Number one Bryant's performance came in 2006 which lead Lakers to victory against Toronto Raptors. He scored amazing 81 point, making him the player with the second best point total, after Wit Chamberlain who scored 100 points. Bryant continued with this trend, that resulted in 43,4 points average score. This led him to All Star game and  MVP trophy. Lakers also won a conference play-off but lost from Boston Celtics, in the NBA finals. They revenged in 2010, with beating Celtics in play-off finals (his fifth title), with Bryant receiving his second MVP title.
Chasing the Sixth Title
Kobe Bryant didn't manage to won 6 titles with Lakers and beat Michael Jordan's record, but with scoring more than 30.000 points, 20 years in the same team and already mentioned 81 point in one game, he definitely entered the NBA Hall of Fame, with some of the most respected names of the game, which include: Michael Jordan, Wit Chamberlain and Kareem Abdul Jabbar.
Although because of injuries Bryant wasn't his old self during most part of his last season, the echo of him retiring circled the globe and was followed by Kobe's poetic "Letter to Basketball"  and heartbreaking reactions from his ex-teammates, including the one from Shaquille O'Neal.  Don't miss out on the busy LA Lakers schedule, cause this is the last season you'll be able to see the legend play.