Men's leather jackets speak volumes about their wearer. When it's worn the right way, a leather jacket can say sex appeal, with a capital S. But wear the wrong leather jacket and it has fashion flop written all over it.
A classic, soft leather men's jacket marks the difference between a man and a boy. Never underestimate the power of a beautifully cut men's leather jacket worn well.
Leather jackets are one of those items that never go out of fashion. They've been the mainstay of the male wardrobe for years. Think of the coolest of the cool –Marlon Brando in the classic movie The Wild One. Or super-cool bands like The Killers who know how to rock a leather jacket like no-one else.
But get it wrong and the otherwise innocent leather jacket can kill your credibility. The wrong leather jacket can smack of desperation. Try too hard and you could be in danger of looking like a doorman or a biker – which is fine only if you really do break up fights for a living or own a Harley.
For the average male, there are a few rules to abide by if you want your leather jacket to make the right statement.
Choose the Right Colour Leather Jacket
Men's leather jackets don't have to be black. Of course, a black leather jacket is a classic item. Wear it over an all-black outfit or skinny jeans, T-shirt and Converse boots for ultra-edgy style. There's no better way to rock the look than the rock-star way.
But a black leather jacket isn't the only option. There's a whole variety of men's leather jackets to choose from. Like a soft leather jacket crafted from sumptuous sheepskin in brown. Or a tan coloured leather jacket for a look that marks you out from the crowd.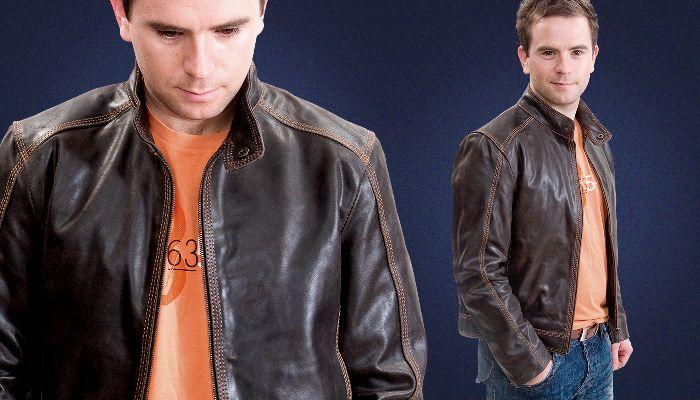 Team your brown leather jacket with a black, blue, cream or green T-shirt to make distinctive colours pop. Patterns like plaid or stripes generally work well too.
Adding additional leather items to your outfit, a bit like double-denim, can be overkill. If you're sporting a leather jacket, let the jacket take centre stage.
Get the Correct Cut
The best leather jackets are the ones that offer a structured silhouette. A leather jacket adds weight to your look, so don't go for anything too bulky – make sure you get a slim-cut one. And make sure it fits. An ill-fitting leather jacket will ruin everything you set out to accomplish, no matter how great the jacket is.
A cheap leather jacket gives a cheap impression. If you love your leathers, it's always best to invest wisely in a jacket that will become a staple in your wardrobe for years to come. Boda Skins soft leather jackets for men and women's leather jackets are an investment that last a lifetime.
Boda Skins, http://bodaskins.com offer the ultimate in luxury men's leather jackets, from trendy leather coats inspired by the latest fashions to timeless classic pieces. You can even get your leather jacket custom fitted for the perfect fit.
You'll be spoilt for choice with these men's and women's leather jackets from Boda Skins, crafted from the best materials in a range of striking designs. Check out their range.